The Austin Connection
Saturday, May 8 2010 @ 2:15pm, Curtis Theatre, George Eastman House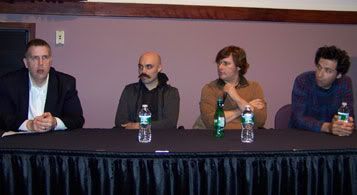 (L to R: Jim Healy, David Lowery, Bryan Poyser, Alex Karpovsky)
Moderator: Jim Healy, Assistant Curator, George Eastman House
With: David Lowery, Director, St. Nick
Bryan Poyser, Director, Lovers of Hate
Alex Karpovsky, Director, Trust Us, This Is All Made Up
The Austin Connection followed a three-fer screening at The Little Theatre the previous evening: St. Nick, Lovers of Hate, and Trust Us, This Is All Made Up. Healy was quick to point out the connection to the three films: Lowery directed St. Nick, and also did cinematography for Lovers of Hate, directed by Poyser, which stars Alex Karpovsky, who directed Trust Us, This Is All Made Up.
While the panel did touch on the topic of "mumblecore," including the films and the use and abuse of the word, much of the panel was focused on Austin as a filmmaking community. The panel centered around being an upstart filmmaker in Austin, the film culture of Austin, and the interconnected relationships between the filmmakers.
David Lowery was born in Milwaukee and spent his early childhood there; his family moved to Texas when he was seven. Currently, Lowery splits his time between Los Angeles and Austin, where he usually stays with Bryan Poyser.
Poyser grew up in Washington, New York, Connecticut, Colorado and Texas. Poyser has remained in Texas since he was a student at University of Texas at Austin, where among his classmates were Jay Duplass. His previous film, Dear Pillow, played at over 30 festivals around the world. Poyser also co-wrote and produced The Cassidy Kids. Lovers of Hate premiered at Sundance, and was picked up by IFC Films to be shown on demand as part of their Festival Direct series. Poyser's day job is as director of Artist Services for the Austin Film Society.
Alex Karpovsky was previously a guest of the George Eastman House in 2006, when he brought his debut film The Hole Story to the Dryden Theatre. Karpovsky grew up in Boston and spent several years in New York City (some of that time spent trying to be the next Andy Kaufman) before relocating to Austin to work on Andrew Bujalski's Beeswax in 2007. Karpovsky has appeared in the films Harmony and Me, Bass Ackwards and Tiny Furniture. After spending three unbearably hot summers in Austin, Karpovsky has opted to move back to his native Boston.

"I went to Austin in July of 2007 for the first time to work on Beeswax," said Karpovsky about his introduction to Austin. "I think what really resonated with me is that there's a lot of really cool people there. For a city its size, there's a tremendous amount of creative, driven filmmakers. It was also a very manageable city for me–it has very dense surroundings. I lived in New York for nine years, and it was always a small struggle for me–in terms of the intensity, and also in terms of the time you need to commit just to stay afloat. I know that it's a cliche, but it was really true for me. The only thing I don't like is summer–I don't do heat well. I thought that would be a small thing, but after three summers, it just got to me. I can't do another summer, so I've decided to move back north. There's just no way."
Poyser chimed in. "Summer is going on already, and it will last until October." Poyser continued on about how the tight-knit filmmaking community in Austin sharply contrasts with the tight competition for filmmaking jobs that actually pay. "The competition for the few paying jobs is really strong. We function as a back lot to Hollywood, big movies that will come in and shoot." Poyser credited Robert Rodriguez, Richard Linklater, and Mike Judge for drawing attention to the Austin film community at large, as well as Terence Malick, who also resides in the area. "There's a couple of filmmakers, like Robert Rodriguez, Richard Linklater, and Mike Judge, who sometimes make their movies there. Rodriguez usually makes every movie there, because he shoots on a green screen at Austin Studios. He took over the old airport and redeveloped it as a studio village in the middle of the city.
"You can work on one of his movies for six months, then you work on another movie, like the Coen Brothers' remake of True Grit, then be broke for awhile. Then you'll have these amazing projects. There's enough of a scene for the bigger projects to subsidize the smaller projects." Other filmmakers, like Quentin Tarantino, have hosted premieres of their films in Austin to raise money for the Austin Film Society.
The Austin Film Society offers "Work in Progress" screenings for enterprising filmmakers. Lowery and Karpovsky screened early cuts of their films for these audiences. Filmmakers submit rough cuts, then hold screenings at Austin Studios. They show off the films to other filmmakers, fill out a questionaire, and do a moderated discussion afterward, and give the filmmakers feedback.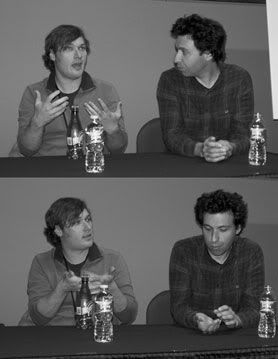 Karpovsky commented that "It's hard to get 30 or 50 strangers to come see your movie. I did it for two movies, which were both kind of comedies, so after two months, you lose your grip on what's funny. [With these screenings], you're reminded of what's funny, and what's indeed not funny."
Poyser added, "You become the worst audience for your movie. You don't laugh at all. You don't find anything funny."
One of the best things that Austin has is this mentality that we're all in this together because no one's making money. We're all broke. But the only thing that maybe eventually will make us not broke is making movies that are interesting. It's competitive in certain ways, but in good ways, because we're trying to push each other forward. If there's something in this movie that isn't working–when you can tell it's self-indulgent–it's only in there because you want it to be in there. If it's not working in front of an audience, you have a choice. You can leave it in there and make yourself happy, or you can cut it out, and get other people to like it."
Eventually, the conversation turned to the "m-word." Healy mentioned that he was tempted to title the panel "Beyond Mumblecore." While it appeared in the final panel description, he resisted.
Poyser recalled how the word got coined.
"I was there there. In 2005, Andrew Bujalski's Mutual Appreciation was playing at South By Southwest, as well as Joe Swanberg's first movie [Kissing on the Mouth], The Puffy Chair and Four Eyed Monsters, all of which were tiny budgeted movies about people in their twenties, where plot was not the main subject. It was about observational behavior, the stumbling love lives of twenty somethings.
We were at this noodle place around the corner from the Alamo Drafthouse. Andrew, his sound editor, and two other people. We were just talking about how all these people mumbled in these movies, and there was really no script involved.
Andrew Bujalski said, 'Oh, my sound editor, he came up with this word, 'mumblecore'. There's a lot of mumbling, but there's also a connection to rock scenes and hardcore music. The world of these movies is DIY, low-fi, defiantly alternative kind of music, and all of these movies are defiantly plotless. So we all just thought that was a funny word. Then Andrew dropped that word in an interview that he did with IndieWIRE when Mutual Appreciation was being released. That was the first time it was really in print. It didn't really catch on until two years later, when Joe Swanberg put together the indie all-star cast of Hannah Takes the Stairs, which has Andrew in it, and Mark Duplass, who did The Puffy Chair and Baghead, and Todd Rohal, and that's when the term launched itself. It was that movie that kicked it off."
"What do you think it means now?" Healy asked.
"Definitely it was a marketing ploy," Poyser continued. "The IFC Center in NY put together a retrospective of Andrew's films, The Puffy Chair, this guy Frank Ross, who's this filmmaker up in Chicago, Kentucker Audley from Memphis, who made this meandering, young twentysomething movie [Team Picture], and put together this retrospective to kick off the release of Hannah Takes the Stairs. Putting these movies together and assembling a mini-festival in New York, they got a lot of press attention, and that's when it filtered out into the indie film blogs, and that's what made it pop. It was essentially a marketing ploy."
Eventually, the usage of such a catchy phrase turned sour. "Almost immediately, it became something that was easily criticized. 'These movies have no plot, it's just about these twentysomethings, these white, overeducated folks who don't know how to function as adults." Also, seeing filmmakers like Rohal, who shot The Guatemalan Handshake on 35mm in Pennsylvania with no twentysomethings in the cast getting lumped in as "mumblecore" only further drove the phrase into the ground.
The release of films like Greenberg and Cyrus sees the laid-back ethos of the preceding films crossing over to a more mainstream arena. Poyser, who maintains a close relationship with the Duplass brothers, discussed the approach the Duplass Brothers take with their scripting and filmmaking.
"They stumbled upon this style of having a script, but just not paying attention to it when they started shooting. They're obsessed with the with the idea of not doing any blocking. Their idea is, 'Don't tell the actors what to do.' They feel like they already know what the scene is about. There's usually a script that's been written but it's nothing that gets refered to on the set. The idea is to try and capture it as a natural reaction, a natural, spontaneous idea. That's what they made their first two features and short films on.
For Cyrus, they used that same technique with these lead actors who are used to hitting marks and having dialogue and having the director tell them what to do. Jay and Mark just told them not to do that. It was a difficult process for them, to get all the actors on board with this in the beginning, but it turned out to be a funny movie.
They really don't know what they're doing, they just go with what's worked so far, and try to learn from each experience. Making a film is such an expensive art form to practice. You have so few opportunities to pull together so many resources to make any one movie that it gets harder to try and blend different genres and styles, because it could all fall apart."
The Duplass Brothers also served as executive producers on Poyser's film Lovers of Hate. They stepped into the role by lending Poyser money to finish the movie. Poyser had just enough money to get through production in Park City, Utah. Poyser called them up while they were fitting John C. Reilly, and agreed to foot him $2,000 to finish the film.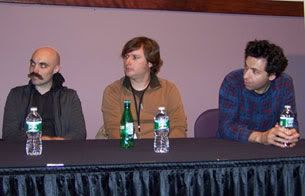 A member of the audience asked about Burnt Orange, a short-lived production company set up and partially funded by UT-Austin. Burnt Orange produced Poyser's The Cassidy Kids. Poyser explained:
"The idea behind Burnt Orange was to create a production company paired with UTFT to give Austin Students experience of working on a larger budget film. They raised enough money to finance four films. It was a great experiment, and it was the very thing Austin needed, a company that was going to be making movies in the $1M range, but with the problems that the independent film world has been going through for the last several years, they never figured out exactly what they were going to do.
The way they had it set up was that they had to make a movie every year, and that's not always the best reason to make movies. You should always be making a movie that should be made. It should be a commercial and passionate venture. I had an incredible opportunity to make a movie with a half-million dollar budget and a crew of 50 people, and an opportunity to learn what it's like to be on a real movie set. It's hard to get that experience."
Q: With Independent Film, there is obviously a smaller audience than with Hollywood Films, yet I feel your films could reach a much larger audience than your films are getting.
Poyser: Going through that experience at Sundance taught me the power of celebrity. Having famous actors in your movie makes things different. People want to talk about them, people want to see them. They get a lot more press. With Jay and Mark Duplass, the movies they've made–The Puffy Chair, Baghead. Those movies got a lot of attention from a small, core group of enthusiasts for Independent Film. Both of those movies didn't even crack $200,000 at the Box Office.
Their new movie, Cyrus, has at least four–five in the Independent World–movie stars of that caliber. There's going to be spreads in The New York Times leading up to the release of that movie. If I can get at least one person in my next movie, it's going to make a big difference.
The great thing is that there are great actors out there who are famous, but want to do interesting work. That's what the Independent Film World has run on for the last twenty years. Somebody like Ben Stiller wants to be in a movie like Greenberg that Noah Baumbach just put out a few months ago. [Stiller] went from doing Night At The Museum 2, a big budget studio film, to doing something really small, and getting paid hardly anything to appear in it. He did because he wanted to.
With Jonah Hill, I remember reading an interview with him when he was promoting Superbad. One of the questions posed in an interview was, "Are there any movies you're excited about?", and he mentioned Jay and Mark Duplass. This was three years before they cast him in Cyrus. That's how long it took to develop that relationship. Yet he was someone who saw The Puffy Chair at a festival or on TV or something, and was like, "Oh, these guys are great! I want to work with them!" And it just so happens that he became a big star.
Erin: One really underrated aspect of these films is the writing. When I say that, I use the term loosely. What I think is really unique is that you throw a lot of–not to say you're ignorant of them–screenwriting conventions out the window. At least for me personally, while it's not the only thing that makes them interesting, it's one of the things that make these movies interesting. You guys just don't care, and for me, that's a good thing. A lot of mainstream independent films have started to take on more typical Hollywood conventions, which I'm sure helps them make more money, but makes the movies themselves a lot less interesting.
What I'm saying is less of a question, and more of an appreciation. I would say even Joe Swanberg, whose films aren't really written at all–when he and Greta Gerwig and Ben Kasulke would sit down and discuss over breakfast what they were going to shoot that day when they were shooting Nights & Weekends–that's still writing.
Poyser: Part of that comes from the film community vibe–it's uncool to try and make something commercial [laughs]. If I try to write something very genre-oriented, or make something that adheres closely a genre, like a comedy, in Austin, everybody's kinda like, "Lame!" I think everybody pushes each other to try and do something good, but also unique and challenging in some way.
Karpovsky: I think the idea is to make something small, and make something high quality. I don't think those two have to be mutually exclusive.
Poyser: You want to make something personal that's not self-indulgent. You want to make something that's resonant with a somewhat wider audience, or that challenges people in some way. That's what I try to do. Except that what I've written so far, my instincts go away from commercial, sort of tried-and-true formulaic stuff, because if I did, I don't think I could hold my head high.
Healy: At the same time, you're not going to make anything that's not approachable.
Lowery: I'd more say that we don't care about the rules. I try to make every film true to what it can be and what it can do, and what audiences expect, and try to make the movie as true to yourself as possible. I care about that very deeply. I love the process of screenwriting, writing the script. I feel that what I've learned as a director is that you always have to be open to change. I want to use the term "comprimise", and I hate to use that word. I try to stick to what's written, unless you have a perfect script, and a massive budget, you're never going to be able to achieve exactly what you've written.
I try to make myself open to whatever possible. Working with kids on St. Nick, I had that attitude quite a bit. Even in a traditional 90 page script, which is probably what I will have for my next film. I totally expect to have moments where I'm presented with an opportunity to do something different: if I trust myself as a filmmaker to understand the project that I'm making fully, and to know what's best for it.
Healy: I would suggest today that all three of you have affected change in your own way.