Sisyphus Reconsidered: The Screenwriter's Panel
Film 360 | 365
Saturday May 8, 2010 @ 11:30 am
Curtis Theatre, George Eastman House, Rochester, New York.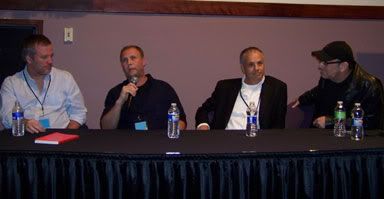 L-R: Gordy Hoffman, Paul Root, Drew Yanno, Nicholas DiBella
Moderator:
Stan Main, founder, Rochester Movie Makers
With:
Gordy Hoffman, writer, Love, Liza; founder of the Bluecat Screenplay Competition
Paul Root, co-writer, Cherry Crush; author, Moving Pictures
Drew Yanno, author, The 3rd Act: Writing a Great Ending to Your Screenplay
Nicholas DiBella, co-writer/director, Cherry Crush
I traipsed into the Screenwriter's Panel with anxious ambivalence. My first attempt to wade my way into film was as a screenwriter. I wrote three specs, then I realized that "the market" was not interested in the next Terry Southern or Rudy Wurlitzer. I don't think I would necessarily be against writing scripts now, but I often feel like the energy I would be expending on a script is better spent working on an entire film. I don't think Hollywood is interested in the kind of things I like to write. The feeling is mutual. At one point in this panel, panelist Drew Yanno made the suggestion that aspiring screenwriters should write the movie they would go see the Friday it opens. That's great advice if you like the kind of movies Hollywood is currently making. I can count the number of studio films I've genuinely enjoyed in the last few years on one hand. Only one of them–Gran Torino–made the kind of money where studios take notice. (Okay, Date Night had its moments.)
From 2007 to 2009, I undertook a self-directed independent study wherein I investigated the origins of screenwriting theories. I scoured the libraries of Cornell and Hobart and William Smith for papers on Aristotle and Joseph Campbell, and I took out many interlibrary loans. I read screenwriting books from the silent era to Syd Field and Christopher Vogler. I wanted to know: how did we get to the screenwriting culture we have today? At one point, panelist Drew Yanno said, "Aristotle started this 2300 years ago–beginning, middle, and end." But what many writing teachers often lose sight of is that the three-act structure is the most GED of ideas, as Chris Rock might say. The impetus behind my research was this: why in the screenwriting world are writing formulas considered to be above criticism when they are not? I went in seriously wanting to challenge the panelists.
In his book Me and You and Memento and Fargo, J.J. Murphy singled out films like Safe, Mulholland Dr., Me and You and Everyone We Know, Elephant, and Being John Malkovich as taking a distinct approach to screenwriting that contrasts with the rigid, formulaic ideas put across mainstream screenwriting manuals. In the conclusion of this book, Murphy writes, "Classical Hollywood Narration is not intrinsically superior to either art cinema narration or the combination represented by American Independent Cinema. Robert McKee mounts a number of arguments in favor of classical narration, but his ultimate argument rests on the fact that the archplot is simply more commercial than either antiplot or miniplot." Most screenwriting manuals (and wannabe screenwriter culture in general, for that matter) are geared toward winning a lottery whose odds move further out of reach with each passing year.
Murphy's thesis was practical: Murphy argued that movies took the "three act structure" approach not because it was inherent, as most screenwriting teachers insist, but for financial reasons. Murphy observed that the bigger the budget, the more conservatively the film was written.

Me and You and Memento and Fargo was published in 2007, which, if you're familiar with the grand narrative of American Independent Film, was when studios began pulling out of the specialty business, or at least dwindled the amount of picking up films financed outside their doors and left independents (intially) crying Chicken Little. In a perfect world, the publication of Murphy's book should've been a turning point, a shot in the heart to the myopia that is 98% of screenwriting manuals. But in 2007, "indie" in the mainstream had become movies like Little Miss Sunshine, a movie that was basically National Lampoon's Vacation with quirkier characters. As I was watching that film, I felt like I could see the writer peering into a screenwriting book, wondering when to make the plot point turn.
Rochester Movie Makers no doubt had the best intentions in assembling a panel dealing with how to "make it" as a screenwriter. I haven't been on the festival circuit too long, but I've been on it long enough to occasionally forget that 90% of people who enter film have an American Idol mentality: many will enter, few will be discovered. The panel and panelists represent this idea, and it's a reminder of why I drifted away into the Independent Film Circuit.
The panel began with moderator Stan Main asking if anyone attending the panel were screenwriters. There was a hearty show of hands. The panelists then began introducing themselves. Gordy Hoffman didn't talk much about his background or how he found his way into screenwriting, but he did speak extensively about adjudicating The BlueCat Screenplay competition, and his previous experience teaching screenwriting at USC. "I taught at USC for three years. I worked with a lot of students. Lots of adults, lots of undergrads." Hoffman mentioned that there were 3,000 entries in the BlueCat Screenplay Competition last year, and by his own estimation, he has adjudicated over 10,000 screenplays.
Paul Root was a graduate student at SUNY Brockport when he met a woman who liked his writing. She mentioned that her brother was really into making movies and was seeking out collaborators. Turns out that woman's brother was Nicholas DiBella. DiBella and Root connected and began collaborating together.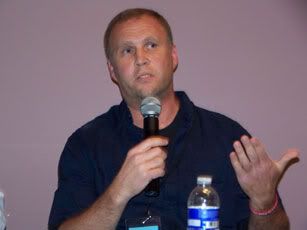 "When I started out, I was going to things like this," Nicholas DiBella told the audience. DiBella was working as an engineer at Eastman Kodak when he began borrowing cameras from a local camera club on the weekends. He also educated himself by reading scripts and writing them–he'd figured out that the way to get noticed by Hollywood was to write a great script. DiBella found a directory, and submitted a query letter to over 100 producers. Five years later, the movie was made and went straight to cable. With a subsequent script, he managed to get Chris O'Donnell, then a hot item, attached and sold it to an agent. Drew Yanno agreed that the way to get an agent was to sell your script to a producer, and encouraged writers to write query letters to producers.
"I became a screenwriter by going to Law School, and hating it," is how Yanno found his way into screenwriting. After partnering up with a friend, he wrote a script and submitted it to a contest sponsored by the Massachusetts Film Office. Yanno's script won second place–the first prize winner got to go to LA and meet with producers. So Yanno went to the MA Film Office, offered to pay his way to LA if they could get meetings with producers, to which they agreed. The result was that Yanno and his partner sold a script to Universal.
Perhaps not too impressed by the bubbling enthusiasm of Yanno and DiBella's love of query letters, Hoffman offered a counterpoint: "There's not a lot of great screenplays out there, there just isn't. It's not about access. It's not some labyrinth. People think that there's this pile of great scripts in Idaho, and people can't seem to find them. There's not enough great scripts. They find you in all the ways that have been described, but also through lawyers, assistants, etc. It's harder to write a great screenplay than it is to make Avatar, because Avatar was not a great screenplay." Hoffman's sentiments brought me back to my own stab at becoming a script reader. As practice, I read amateur scripts and practiced writing coverage. Many of the scripts I read were technically good–had their plot points in the right place, fit snugly into a commerical genre–to some extent, what producers are looking for. The problem was that they were boring.
A particular amount of time was spent on what not to put into a screenplay. Some of it was and is common sense, the rest seem to be rules called into existence. Don't write a script over 120 pages. Don't write a character's thoughts. Keep descriptions to four lines. Paul Root, coming from a playwriting background, encouraged writers to avoid monologues. Then there's stuff like Yanno points out: "Don't write music. It's hard to get the rights to music. If there's a song in there, they're going to put your script down." Is the RIAA really going to knock down your door if they see a copyrighted song mentioned in your script? Technically, I don't see why you couldn't, but whether or not to use that song is ultimately up to the director. It's like how screenwriters are discouraged from using "we see". It's not that it would truly help or hurt a script–it's just that one consultant, David Trottier, got tired of seeing it.
Contests were also discussed, including Hoffman's own BlueCat Screenplay competition, which Yanno pointed out gave feedback to every entrant. The Austin Film Festival competition and the Nicholl Fellowship were also cited as worthwhile contests. Advice was given about feedback. The main advice seemed to be about finding people you trust, who have some knowledge of screenwriting, who aren't afraid to give you an honest opinion. DiBella, whose film Cherry Crush concerned a high school student getting wrapped up in one of his subjects, likes to go to nearby Penfield High School to get feedback from students. Paul Root encouraged writers to look for patterns in feedback.
Then the panel got into the Q&A section, and a member of the audience asked about the importance of the ending. "Half of your movie is the ending," Hoffman said. "Half of your ending is the screenplay. It's very, very important. To write a proper ending is hard. Endings are very, very difficult. They are sort of a miracle, and very, very hard to do. They are sort of the hallmark. I saw Chinatown again about a week and a half ago, and I realized what a classic ending that movie has. What a miracle ending, what a triumph."
With the two minute warning, my arm shot up. I was bursting at the seams, and I got the final question.
"You guys are giving a lot of information about how to break in, what kind of scripts to look for and whatever, that's great. But I still feel like there could be a lot more information out there on what happens once you get in. About a year and a half ago, John August posted something to his blog, that in my opinion detailed the day-to-day business of being a screenwriter. I realize that very few writers get to this point, but I think that setting up a company, getting a lawyer, how much you sell it for vs. how much you'll actually get when all is said and done. That information is missing in the marketplace.
For example, Dana Fox. She wrote What Happens In Vegas and Couples' Retreat. She's from Rochester."
"From Brighton," Hoffman chimed in.
"Whatever you think of her movies, she is a consisently working writer. In all due respect to the rest of you–you've all had varying degrees of success–I'm wondering why she isn't here today."
My question was really stream-of-conciousness. While asking about Dana Fox and the business of a working screenwriter seem like a really odd thing to ask, I was lashing out at the redundancy of the whole thing. I wish I had thought out the question beforehand, where I could've avoided logorrhea. Hoffman was the first to answer.
"I think we have some working screenwriters up here, and hopefully Dana will be up here in six years. But I think not having a woman up here is not right."
A lot of cheers from the audience. Then it was DiBella's turn:
"Production company or no production company, the bottom line is this: screenwriting is an everyday thing. I do that, all these guys do that. This is what it is. Everything you said, I'm sure that's what she does. You get up there, and as far as I'm concerned, you just gotta stay there and keep working. I think the reason why we've been fortunate enough to sell is because we get in there. I write a lot of crap. For every ten pages, one is good. So that's my message. That's how to become a professional screenwriter. By the way, success is not measured by the number of box office hits you have. You get up everyday and write. All your scripts won't be made into movies. You might make one. But you're working."
Yanno added, "I'm sure there's different information out there on the internet. Also, I bet Dana has a good manager, a good agent, and a good entertainment attorney. If you have those things, and if you have the right, trusted advisors, all that stuff comes into place."
I agree with DiBella that as long as you're writing and making a living off of it, you're a professional screenwriter. I certainly didn't intend to insult any of the panelists, and I don't think any of the panelists up there were out to decieve anyone. But I do think Dana is where a lot of would-be screenwriters aspire to be–in demand to write what the studios deem top-of-the line material. Being a screenwriter is a job like any other, and it's not for everyone. It's not like working for a company or an organization, where you have your health insurance and retirement taken care of for you. As a screenwriter, you are a professional freelancer, and where things like taxes and retirement (Hey, the Gravy Train won't last) are concerned, you're on your own. I'm sure Drew Yanno's job at Boston University allowed him to turn down Mortal Kombat 2 (something he claims to have done).
I'm not saying the approach that writers/gurus on the panel take are wrong. In all fairness, Gordy Hoffman did discourage writers from taking screenwriting books too seriously, citing that he felt a lot of writers went downhill after they read them. Drew Yanno criticized other gurus who suggest that their way is the way. I do think that the "Hollywood" way of writing a script is only one way. As one Amazon.com reviewer of Me and You and Memento and Fargo wrote, some of us don't look at screenwriting being as a rigidly fixed path to the least scriptreader/suit resistance, but as a wonderfully flexible and variable calling with as many different possibilities as there are individual filmmakers."