Girls Revealed @ SXSW
Tuesday, March 13th at 12:30 p.m. at The Austin Convention Center
Notes by Erin Scherer
Moderator:
Alex Karpovsky, "Ray"
Panelists:
Lena Dunham, creator, "Hannah"
Jenni Konner, Producer
Ilene Landress, Executive Producer
Judd Apatow, Executive Producer
Jody Lee Lipes, Director (2 Episodes)/Cinematographer
Paul Zucker, Editor
Shawn Paper, Editor
I always thought Lena Dunham would cross over, it was just a matter of time.
I first met Lena at SXSW in 2009. It was at a party thrown by IFC following the premiere screening of Joe Swanberg's Alexander the Last. I had interviewed Ry Russo-Young prior to the festival, and wanted to say hello to her. Lena was with her, and so was Amy Seimetz. Lena and Ry were in the early stages of collaborating on a script of for what became Ry's newest film, Nobody Walks.
"Hi Erin! Please come see my movie!"
"Okay," I replied, a little deliriously, having taken advantage of the free liquor.
Lena was at SXSW with an intriguing little film titled Creative Nonfiction. Having taken a class my senior year in college on the subject (and an influential course on me as a writer), I was interested in the movie solely on the basis of the title. With my schedule all planned out, I wasn't entirely certain if I would make a screening of the film.
Creative Nonfiction was the last movie I saw at SXSW that year before I left. It's not a masterpiece, but there was definitely a strong, authentic voice at work. You can see more of that developing voice in her two early webseries, Tight Shots and Delusional Downtown Divas. After I returned from SXSW, I made a point to seek out her earlier short films on the internet (most of them now only available on the Tiny Furniture DVD). From there, I developed a hunch about her. That year, she made 25 New Faces list for Filmmaker magazine, where she stated, "In an ideal universe I would like to support myself by writing movies and TV shows."
While she may have aspired to write for Hollywood, she envisioned her post-collegiate life being far more mundane. "I've never had a career game plan," she told the panel. "My thought about what my life would be was that maybe I could be a video teacher at an all-women's college, and make movies every five years with my savings and having foster children for which the government would pay me."
Late in the fall, she shot Tiny Furniture, which debuted the following spring at SXSW. She won two awards there, and the rest is history. I feel fortunate having had the chance to interview her. By the end of 2010, Lena had an agent and a deal at HBO. She explained, "I knew that there were independent filmmakers who make their money writing for TV. I watched episodes of How I Met Your Mother to see if I could write a spec of it."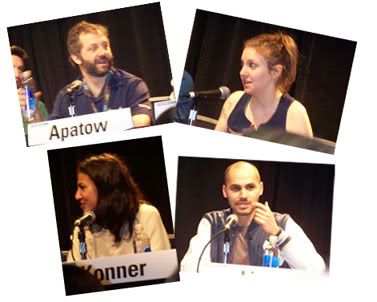 Girls producer Jenni Konner became one of Tiny Furniture's early Hollywood allies. A friend gave Konner a screener of Tiny Furniture. As it so happened, Konner's father lived in the same building that Tiny Furniture was shot in. Lena related this story:
"When we were shooting Tiny Furniture, we got stuck in the vestibule of my [apartment building] for 45 minutes with Jenni's dad because the door locked, and it would unlock. Finally, he just unlocked it, and bravely let us through the garage."
After recognizing the familiar building and being won over by the film, Konner showed the DVD to every one she could, sought Lena out, and set up a pilot deal for her and Lena at HBO. Among the people she managed to convert was her collaborator on Freaks and Geeks, Judd Apatow.
"I felt a kindred spirit in what she was trying to do. It reminded me of aspects of stories that I like, underdog stories, coming-of-age stories. It's why I liked working with Paul Feig on Freaks and Geeks. I couldn't believe how good it was, and it just captured a world I wanted to talk about. I felt the same way about this."
Judd Apatow's relationship with HBO began when he was just 17 years old, and volunteered himself to work for a "Comic Relief" benefit. He subsequently worked for HBO for five years helping stage other benefits, then working on The Ben Stiller Show and The Larry Sanders show. During his early tenure at HBO, he observed HBO, their reverent treatment of Larry Sanders' Garry Shandling, and what saw that HBO respected what Shandling was trying to do.
This stood in high contrast to his experiences at Network TV, first at NBC with Freaks and Geeks, then with Undeclared on Fox. Difficult as it may be to believe now, he had a hard time selling Seth Rogen as an everyman. He made a last-ditch attempt to pitch shows to actors for HBO before abandoning TV completely. Apatow turned his attention toward film, and became successful with hits like Knocked Up and The 40 Year Old Virgin. When he discovered that Jenni Konner and Lena Dunham were set up at HBO, he jumped at the chance.
"I just loved her work so much, wanted her to succeed, and wanted her to be true to herself. Which is not what other people [always have in mind]."
Apatow's name on the project took Girls from being "'this weird, fringy project' that could've taken a few years to make, to 'Judd Apatow's show', and it changed everything." This was icing on the cake for Dunham, who considered Freaks and Geeks and Undeclared an influence on writing the pilot.
Lena wanted to write a show about the trials and tribulations of female relationships.
"In terms of female relationships, those are the most valuable relationships in my life. They are closest relationships in my life. I've had so much more accumulated strife from female relationships than anything I've had with a guy." Knowing that she was crafting a show with a bigger audience in mind, she referred to a scene in Whit Stillman's Metropolitan to explain her method for creating characters.
"In Whit Stillman's Metropolitan, there's this one really funny section where Chris Eigeman's character has invented a person and told all these people about this horrible tribulation about this girl Polly, and it turns out Polly is fake. And [he asserts], 'She's not a fake! She's a composite, like New York magazine does!' It's one of my favorite scenes of all time."
"I took what I felt like were some salient features of girls of my generation. As I often do, I wrote based on my life. I started basing my characters on my very close friends. All of my characters were tightly related to their real-life counterparts. I wrote the episodes thinking that way. What was amazing about working with Jenni and Judd was was that through casting, everything changed in a wonderful way. When Allison Williams was cast as Marnie, Lena had to adjust since Williams bore little resemblance to the girl she's based on, Audrey Gelman.
"'She's not small enough! She's not Jewish enough! She's not looking at me with enough disdain!'" Then, after she was cast, it was a completely different thing. I remember going to Jenni's office, and looking at literally two seconds of [her audition], and going, 'Okay, that could work.' They pushed me in a really wonderful way to write for Alison."
Apatow praised Dunham's flexibility and receptiveness to new ideas: "There are creative people who feel like they don't really want anyone to have any other ideas, or are like, 'I need to think of every single idea, or it's not fun.' Or they're defensive. Lena is just excited by any idea that a writer or an actor has, whether or not they thought of it, or she thought of it. As a result, it's a very easy collaboration because we all know that everything is Lena's decision. But she's willing to let other people think of interesting things for the show, and that's usually not the case. Most comedians are hurt and wounded. Whatever Lena's wound is, it only makes her want to be nicer to us."
Lena was flattered by Apatow's praise. "I'm glad that he thinks I'm a good person, because I came into this really terrified. I'd heard these horror stories about Hollywood, and I was certainly afraid. Both of my parents are visual artists, and in that world, there's a real romance in [isolating] yourself in a studio and fighting it out alone. My dad has said snarky things about artists who let their assistants paint on their paintings. If you let anyone else in somehow, you have not done the work. It felt completely the opposite."
Later, she reflected further on the creative freedom HBO gave her. "For episode 10, we were talking about the possible ways it could go. Just to show the comfort level I have with HBO, I did three alternate endings. I forced the actors to do this "choose your own adventure" thing, which would have been a completely inappropriate thing to do at a network. They were so good about it. Even I, who's never had any other TV experience knew that this was remarkable."
Following the production of each episode, editor Paul Zucker will cut the show in three or four different ways–this is called the editor's cut. He subsequently shows each cut to Lena, she gives feedback, and lets Lena pick the cut she likes best, and another cut is made. "At a certain point, everybody's opinions get bolted in. The end result is more than one voice, but it's all one vision."
There was also discussion of Lena's body. When I interviewed her two years ago, it didn't occur to me to discuss Lena's exhibitionism. Nudity is pretty commonplace in "mumblecore" films (if you still want to call it that), so at the time, I didn't think that Lena showing off her body was anything out of the ordinary. However, now that she's on a bigger stage, it's been getting a lot of press. Now it does come off as a big statement about body image. I'm now convinced a thesis paper could be written on Lena Dunham's display of her nude body. (No doubt there would be a discussion of male gaze, and how her nudity turns that concept on its head.) When asked about her propensity for showing off her body, she replied:
"It's not something that I've thought about. It's not like I set out to show my 'real body to the world, and if you don't like it, move to Mars!'. At the same time, I felt like there was a sense of you should 'toll' for yourself." (Not sure if "toll" was the correct word. This part was inaudible.) "I'm not saying it's not beautiful. I'm not saying it's sexual. It wasn't about 'what is confident, what is not confident', and sort of navigating that area of being a woman, not in the extreme."
"I found that the people who have the most positive and most hostile reactions to it have been women."
Konner intervened, "It's interesting to know that."
Lena carried on. "The people who've been 'put your pants on!' haven't been male. I haven't completely broken down why that would be.
Apatow responded mischievously, "I know why that is."
"Why do you think that is?" Lena retorted.
"I see SHAME!" (Laughs from the audience.)
Apatow began to riff. "Keep your dick in your pants! Stop throwing your dick in my face!' It's not that [Lena's] uncomfortable with it, they're uncomfortable with it."
In the pilot of Girls, Adam (Adam Driver) asks Hannah (Lena) about her tattoos and where they came from in a post-coital conversation. Lena gave told the origin of her tattoos. "I got most of my tattoos when I was a teenager. I'd never had sex, I'd never gotten drunk, it was just this idea that I'd seen these curvaceous, Rockabilly-looking women taking ownership of their body, and we talked about that in the pilot. Judd was actually the first one who brought up the idea of talking about them. Let's acknowledge that you're covered in these, and also seeing a man having a reaction to them."
More recently, co-star Jemima Kirke "also gave me two prison-style tattoos to the other members of the cast. So we're 'prisoners' I have also decided about getting another one. I feel like this is the end of my tattoo phase. These are the moments I'm proud of, and now I can forget they're on me."
Apatow interjected, "Jemima just got another tattoo on top of her hand. I thought, 'we need to write about that, it has to be part of the show before we dip her hand in something.'"
Girls has been renewed for a second season, and it's clearly a rewarding endeavor for everyone involved. Said Jenni Konner, "When I run into my friends at the networks, and they're all like, 'How's it going?', I literally lie to them and play it down. I'm thinking, 'It's the most amazing experience of my life.' But I say to them, 'it's good, it's good'."
Following the panel, fellow contributor Rebecca and I purchased DVDs and attended a signing with Lena. I was happy to know that Lena is as kind as ever. We had a nice conversation. She asked me what I was up to, and I informed her that I would be shooting my own movie soon. She signed my DVD, and we took a picture: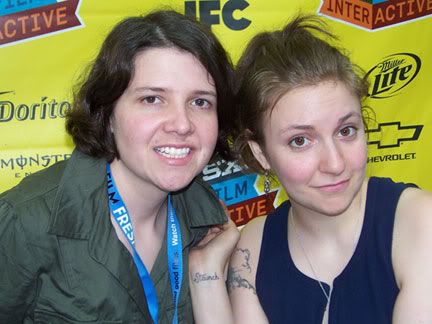 I look forward to the day where Lena Dunham directs another movie for the big screen. Until then, I will watch Girls religiously.