A Conversation with Amy Seimetz, Kentucker Audley, and Kate Lyn Sheil
Director and Stars of Sun Don't Shine
Interview by Erin Scherer
Full Disclosure: The author of this interview gave money to the film's production, and as such, her name appears in the credits. This interview was conducted shortly after the March 11th screening of the film.
Erin Scherer: Amy, this is your first feature narrative film, but you have worked on a number of low-budget, DIY productions over the years, including Medicine for Melancholy, Tiny Furniture, and a number of Joe Swanberg's films. How has working on other people's films prepared you to make this film?
Amy Seimetz: The films I made prior to Sun Don't Shine as a director were more experimental, more strict, and a little more intellectual. I met Joe Swanberg through Pat Healy, who was my roommate and had acted in a movie of mine. After I met Joe, I met a lot of filmmakers who were doing improvisational films. I really enjoyed the idea of a lack of stress, where you just start rolling, and observe what's interesting in the room, as opposed to depending on or sticking to one idea that you have, and you're like, "If this isn't working, then we're failing." So I really liked the freedom that you have with improvisation and not knowing exactly what you're going to capture. But I still definitely wanted to make a scripted movie, but utilize that sort of freshness and looseness with Kentucker and Kate. If I want them to, if they feel like it, they can really do brilliant stuff.
I've also done several horror movies the last couple of years. The anxiety portion of horror films and the cathartic feeling of the horror experience. Not necessarily making a horror movie–I loved the tone, the mood, and how you can go into these really weird spaces in horror films. I didn't want to make a horror film, but a film that had some of these elements.
Erin: Kate, you play a "broken woman" in the film. At one point in the film, your character mentions in a monologue that she has been mistreated for most of her life. It sounded like she had been in one abusive relationship after another. Recently, I read a book on verbal abuse, and the author of the book cited that women will go with the men that court them. However, do you think your character gets involved with a guy like Leo because it's basically what she knows?
Kate Lyn Sheil: We sort of imagined that the beginning of Leo and Crystal's relationship was kind of sweet. Maybe that is what she knows because the beginning of most relationships are pretty tender and and kind until two personalities are not able to intertwine–
Erin: Not to interrupt here, but that's one of the things the book said. Abusive relationships are initially not abusive. There's some event that happens, some shift in the relationship that it becomes abusive. Sometimes it has to do with the abuser's fear of being abandoned.
Kate Lyn Sheil: I think both of these characters are dealing with serious abandonment fears, definitely. In my personal life, it's been my experience that whether or not I realize it, at the beginning of a relationship, I do wind up choosing people with a lot in common over and over again. Which I think is something Crystal does very well. Also, what we wanted to show in the movie was that she's been victimized in certain ways, but on the flip side, she has not taken a whole lot of responsibility for herself. Trying to deflect what happened away from herself, instead of coming to terms with what she did.
Amy: What being a victim means, and how Kate and I talked about how if you're abused, and you've been through these experiences for a really long time, that in order to survive, you have to develop survival techniques. Manipulation is not mean-spirited, but it's just a way to exist so you can navigate a fight. Some of the ways that she ends up lying or hiding things is because your whole life is, "I don't want this to turn into a bad thing, I don't want it to be my fault. I'd rather have the other person think it's their fault." As opposed to getting blamed for something.
Kate: Right. Because of what you're used to how you've learned to deal with overwhelming and angry personalities, and learn to slip around those personalities however you can.
Amy: And vice versa. You're also creating the same environment that you're used to. If there's not craziness intially, your body and your brain seek out the chaos that you started with, or the calmness–whatever home was. It's comfortable for you to find the situations and re-create them.
Erin: Kentucker, you're primarily a director, but you've also acted in movies like this one, Bad Fever, and Joe Swanberg's Marriage Material. How has being a director helped you as an actor?
Kentucker Audley: They're not very interconnected in my case. The films that I make are based on a hyperrealism that isn't present in the two primary films I've acted in. I don't know to navigate between the two. I guess it came more naturally than I thought it would to exist in a character, rather than play myself, which is what I do in my films. They are two separate things, and I guess the only way they're interconnected is the comfortability and being able to exist and interact naturally. Whether or not this is based on hyperrealism, or if it's based upon it. I guess there are similarities.
Erin: Amy, I think you hit the nail on the head at the Q&A of the screening that I attended that people that you want to work with on the film are people have to willing to endure a certain type of filmmaking that at times may not be so pleasant. Given that you are a part of this community, do you think that it's also about people who understand a certain aesthetic?
Amy: Yes and no, because I think we–
Kentucker: Yes, but it might also be no.
Amy: Yes! Let's not forget that it's no also.
I think there's something interesting for this form of naturalism and I definitely think that it's a skill set. Not everyone can be comfortable in their own skin in front of the camera. For instance, in Open Five, what Kentucker was aiming to do is capture the essence of the person, the real person. I think that skill set that not everyone necessarily has, but all of us understand how to do that, or how to use that to our advantage. At the same time, I think that now people that are involved in that sort of realism are transitioning into either pushing narrative to into another level and are trying to figure out what you can do with that realism and how far you can take it into the hyperreal.
Erin: I think that the thing with these movies is that it sort of started out with Joe Swanberg and Andrew Bujalski documenting this sort of naturalistic and not tightly plotted, and now it's moving more into stylization.
Amy: Every Generation has a group of filmmakers that try to get closer and closer to what people act like in real life. It just happened to be this other movement, like the Dogme films and Cassavetes' films and how they tried to get closer and closer to reality.
Kate: A lot of people have tried in the past to capture people as they are, and a lot of these people are of a theatre background.
Amy: For the most part, it's more of a DIY sort of movement. It's not feeling like you have to depend on big money or big companies to tell the stories you want to tell. That now, in this day in age, all you need is an idea, a camera, and technical knowledge. If you know this, there are so many programs that are accessible, consumer-wise. Once you take three days to figure out these programs like Final Cut Pro or Protools and you have the ear and the eye for it, there's no reason to spend tons and tons of money to tell the story you want to tell.
Kentucker: There's also an oscillation with the young maverick filmmakers going toward hyperrealism, or moving away from [hyperrealism] into stylization. I feel like that it's a continuous way it's predicated on–being a reactionary against the previous mainstay. I'm very interested in genre, style, and energy now, whereas in the past I'd shy away from those things. I'd classify them as phony or unnecessary. I think things are heading toward style for a lot of people I respond to will work with.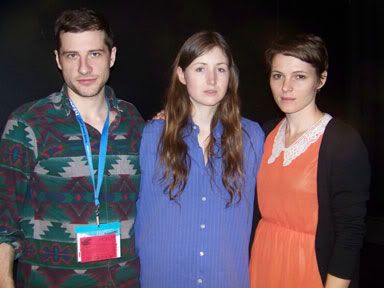 Erin: Amy, when you were doing the fundraiser for this film, you donated part of the funds to a battered women's shelter that you volunteered at while you were in high school. Do you think your time volunteering there may be gave you a certain sensitivity to abusive situations and helped you in the making of this film?
Amy: Yes. I worked at a shelter where there were women and children that were taken from abusive homes.
At the core of both of these characters in these awful situations. What I really wanted to portray with Crystal is that how hard and how scary it is to feel alone, and feel like changing your entire situation, and how terrifying that can be. What you want–because you are so scared and beaten down is that you want to go toward comfort. Sometimes that comfort comes from the person that you really shouldn't be with.
My movie is pretty aggressive, and it's not necessarily a good expose on how to get out of an abusive relationship. It's more like a character portrait for me, getting out a lot of aggression and getting out a lot of fears and a lot of these things that people don't necessarily talk about when they talk about abuse. Even after children were pulled from there abusive parents, they would be like, "I want my mom!"
Erin: You want to show some of the contradictions of being in an abusive relationship.
Amy: Exactly! And sort of blur it for people because I think that Crystal is really brilliant in a lot of ways. Her survival techniques–her brain has been at this high functioning mode. She's existed in this high-stress situation, so she's kind of fight-or-flight. So her brain is functioning at this rapid level, and you see it in the movie with Kate's performance in how quickly she can change, and has figured out how to cope with this high-intensity situation. She shifts again and again, and you see all these faces.
I would love for it to open up a discussion and what it means to be a victim, but also how to get out of the idea that you're a victim, and realizing that being a victim is a choice, and you have to make that decision. You have a choice to make that decision. But also it's okay to feel all these other things, like the desire to want to be with this other person, and that you miss this person. Not necessarily villainize people in these situations.