Betwixt Motels and Middleton:
Actors' Dialogue with Martha Frankel
October 6, 2013, 10:00am
Kleinert James Art Center, Woodstock New York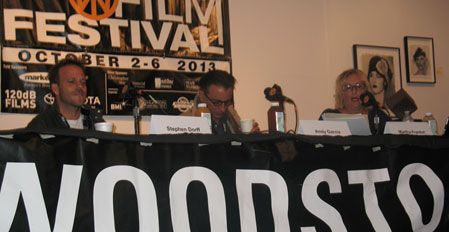 With:
Moderator:
Martha Frankel, Journalist
Panelists:
Stephen Dorff, Actor, The Motel Life
Andy Garcia, Actor/Producer, At Middleton
Each and every year at the Woodstock Film Festival, Martha Frankel hosts a panel called Actors' Dialogue, with one or two actors who have movies at the festival. In the past, she has interviewed Mary Stuart Masterson, Melissa Leo, Lucy Liu, Vera Farmiga, John Ventimiglia,, Edie Falco, Steve Buscemi, and Donal Logue. This year, Martha interviewed Stephen Dorff and Andy Garcia, whose films The Motel Life and At Middleton played at the festival. For Garcia and Dorff both, Independent Film has played a significant role in their careers, allowing opportunities for them to break free of studio typecasting.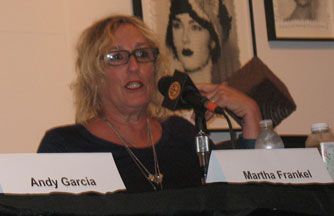 Martha Frankel opened with an amusing story of trying to arrange an interview with Andy Garcia to promote The Godfather III. The head of Paramount's PR department permitted Frankel to interview Garcia on the condition that she attend a test screening and offer feedback.
"They set up this huge screening room, it's just me, and they show me this movie. It's so bad, I can't believe it. I walk out, I do not know what to think." They asked her, "Do you think we should market this to women, should we market this to men? And I think, 'It's just awful! I think, the pottery, the whole thing, it's just so stupid!'"
The movie that she had been set up to see? Ghost.
"The whole movie had a $28,000 opening. I was right. The next week was 4 million, and the next week was 40 million. I was wrong about [Ghost], but I was right about him."